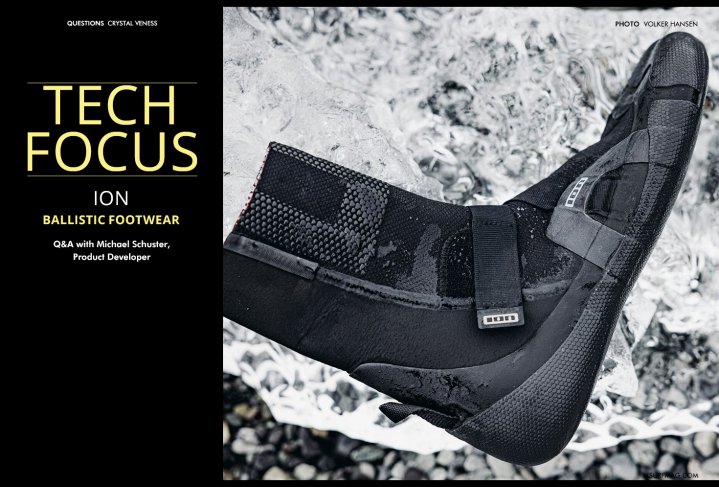 Tech Focus: ION Ballistic Footwear
Issue 101 / Thu 12th Oct, 2023
ION's neoprene footwear range has been overhauled from top to bottom! In this Q&A, we catch up with Product Developer Michael Schuster to find out about all the key changes!
Hi Michael, thanks for taking the time to answer some questions! First, what inspired such a significant change in the ION Footwear range?
We constantly gathered feedback from customers and team riders in the past years. Whether good or bad, all feedback is valuable for product development. Parallelly, we intrinsically strive to offer best-in-class products across all categories. Some time ago, it appeared that new materials were available. New materials also mean that you can adjust a product's cuts. Based on the previous feedback and the new materials, we took the chance to develop an even more advanced footwear range. We are excited to finally offer it to everyone!
The new range features Kevlar Aramid soles. What characteristics does this material have that offer such strong protection for the user?
Kevlar is synonymous with Aramid fibres used in bulletproof vests. The use cases Aramid fibres are famous for are impact strength, cut protection, low stretch, heat protection, abrasion resistance, vibration reduction, and relatively low weight. Except for the heat protection, all these properties are very useful for a sole on neoprene footwear.
Do these 'bulletproof soles' offer flexibility? How would you describe how wearing and using ION footwear with a Kevlar sole feels?
Despite the resistant outsole, the 3/2 Ballistic sock can be turned inside out. Frequent neoprene footwear users will know how valuable this is and what it says about flexibility. Kevlar soles are flexible because of the fibre alignment and the properties of Aramid. It is flexible but doesn't stretch. I believe this to be the perfect composition for an outsole. You don't want the sole to stretch because that would make you slip inside your boot. The flexibility, however, offers a great board feel and an easier walk.
Plasma Plush 2.0, the inner lining material, and Max_Flex, the outer lining material, is used throughout the ION product range and in its wetsuits. What makes these materials the ideal choice for the ION footwear range?
Generally, the same arguments apply to wetsuits as well as to booties or socks. Max_Flex is especially an ideal footwear fit; it offers flexibility and comfort. Thanks to the combination of this new outside lining and a renewed pattern, getting in and out of the boots is very easy. On the inside, Plasma_Plush gives you this nice extra warmth on those crispy cold days.
More handy additions are the External Shoehorn and Pull Loop, located on the heels of the boots. What feedback were you seeing from the market that resulted in the development of these features? How do they work?
A pull loop increases the ease of entry; it's as simple as that. We designed the loop to be thicker and softer than other loops. Once you pull such narrow loops with freezing fingers, you'll know that a thick and soft loop is a very comfortable feature. The same goes for the external shoehorn. It also gives you extra support and stabilises your foot when you have sketchy landings.
What can you tell us about the Velcro system used on ION boots?
The Velcro and "harness" system is a really important feature of our boots. The Velcro is made from a thin and very flexible webbing, which adapts and wraps around the foot like no other. Further, the harness, located on the lateral side of your foot, is connected to the Velcro system, and the Velcro also runs through the heel pocket on your inside foot and runs again further up to the lateral side. This unique Velcro system acts like a brace, stabilising your foot and giving very good support. An additional benefit of the thin Velcro is that you don't feel it when you are strapped to your board.
With so many different materials, components, and layers, we are curious about the construction. How is everything put together?
The boots are glued and blind stitched, like our wetsuits. This and the liquid power seams make them waterproof. We are lucky to produce in the best factory for wetsuits and neoprene footwear. They have the whole process and material production in-house, which makes it easy to keep and control the quality and consistency of our products.
Videos
Editor at IKSURFMAG, Crystal Veness hails from Canada but is based in South Africa. When she isn't busy kitesurfing or reporting on the latest industry news for the mag, she is kicking back somewhere at a windy kite beach or working on creative media projects.
Comments