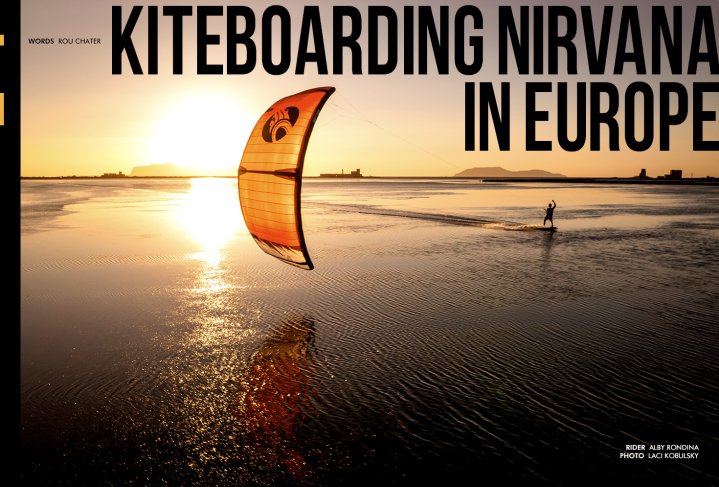 Kiteboarding Nirvana in Europe
Issue 101 / Thu 12th Oct, 2023
Rou Chater travels to Sicily to revisit one of Europe's premier freeride and freestyle spots, which is also one of the best places to learn our incredible sport. Read the exclusive article in IKSURFMAG!
As kiteboarders, we often look for perfection; as our skills improve, we become fussier about the conditions we ride in. We always want more wind, less chop, and bigger waves, but we aren't often truly happy. This is especially true for those of us who live in places where the wind is frontal and not a classic trade wind or regular sea breeze.
For Europe, that is a lot of us, but some spots enjoy incredible conditions, and some are just simply better than the rest. I first went to Sicily on a Cabrinha young rider camp with James Boulding (Cabrinha Marketing Manager) back in 2018. I was there in a media capacity and spent a lot of time shooting, but I did get to see the potential of the place.
Fast forward to 2023, and my girlfriend, Susie, was telling me about some kite lessons she had had in Agadir, Morocco. The school sounded a bit shady to me, and the conditions were more than challenging; big waves and light winds meant she hadn't learned a lot. Back in the day, I had one of the first kite schools in the UK. I also have a long history of teaching water sports and know the importance of having the right conditions and the right instructor.
I've often recommended that people keen to learn to kite should take a trip to Egypt, famous for flat water and consistent wind. However, if you want a bit of culture, some great wine and incredible food… Egypt won't cut the mustard. But there just so happens to be a spot in Sicily with some of the flattest water in Europe, an expanse of a lagoon that can handle hundreds of kiters and still deliver enough flat water to make even the pickiest of freestylers happy. The wine and food are pretty good, too!
Welcome to Lo Stagnone in Sicily! This incredible place is part nature reserve, part salt flat, all kitesurfing heaven. With thermal winds that blow consistently throughout the summer, you're guaranteed a good time all the time.
Alby Rondina is no stranger to this place; one of the first kiters to set up a school here, the Alby Rondina Pro Centre is now a fully-fledged kite resort with accommodation, bar, restaurant, and one of the best spots on the lagoon to launch from. If you haven't come across Alby, he's Italy's Mr. Kitesurf, Cabrinha pro rider, four-time Italian champ, and now the distributor for Cabrinha in Italy too. He set up the Pro Centre with his lifelong friend Riki in 2016 and has been growing it ever since.
Over the years, the centre has grown to what it is today, now offering both villas and hotel rooms with a full breakfast service; there are also kite lessons, kite rental and the option to bring your own gear too. Alby is usually on hand for any pro-level training, and his team of experienced staff and instructors are there to look after your every need.
The accommodation is stylishly designed, and there is air con in all the rooms, which was a welcome relief as we visited during the infamous European heat wave. I love that when you stay here, it's just a short walk from the rooms to the large grass rigging area and the kite centre and school. This is the ultimate in waking up, stepping out of bed and having the best conditions on your doorstep.
Those conditions are exceptional, too; Marsala, the nearest town, is known as the windy city of Italy and boasts impressive wind stats that ensure plenty of time on the water throughout the summer months. As the wind is thermal, summer is the best time to visit, but it can still deliver in the spring and autumn.
The most frequent wind direction is from the northwest and, sometimes, in the summer, the southeast; these are the two main thermal winds that hit the area. It can still be windy during the winter, but it is usually more a case of storms coming through, which can hit from any direction.
The lagoon is fairly shallow, the bottom is sandy, and in some areas, there are large amounts of weed just below the surface; this weed helps keep the water mirror flat. When the wind blows from the north, it can push water out of the Marsala Gate and make the lagoon even shallower. It's usually knee to waist-deep in most places; just make sure it is deep enough to crash if you are learning new tricks in a particular spot.
There isn't anything to worry about in the lagoon. I went barefoot the entire week, and the instructors taught barefoot, too. Just watch out for the body dragging through the weedy spots, as this can sometimes cause a rash on any exposed skin. It's nothing some antihistamines can't fix, though… and you definitely won't find any sharks here, haha.
Getting to Lo Stagnone is pretty easy. There are lots of flights from all over Europe. The closest airport is Trapani, and you only have a 30-minute transfer if you land here. Also consider Palermo, which is just over an hour away by car. On the car front, you don't need one, but without one, you are pretty limited to exploring the immediate area around the lagoon. There are a few great restaurants and bars nearby, and technically, you could travel here without a set of wheels.
However, one of the delights of Sicily is the culture and the food. Being able to get to some of the wineries to sample the popular Nero d'Avola wine that the island is famous for, or the fish market and old town of Marsala, is a real bonus, especially if you have a windless afternoon or morning to fill. We rented a car and used it most days, whether that was for supplies from the supermarket or to head out to dinner. It was useful and not too expensive if you booked in advance.
The nightlife in Marsala is also worth sampling at least once during your trip; once the sun sets, the fish market transforms into a popular place for people to get together and party, with over 20 bars and pubs all next door to each other it's a hell of a way to spend an evening and not to be missed.
Staying on the lagoon at night, there is always some sort of beach party happening at one of the centres, bars or restaurants. With an eclectic mix of kiters from all over Europe and further afield, you are guaranteed to have a good time whatever you decide to do. The sunsets are also magical here; kicking those off with a beer on the beach is a great way to start any evening.
What I love about Lo Stagnone is how it offers something for everyone, no matter your ability. Susie was having a blast getting lessons from Alby's incredible team just out in front of the centre, while I enjoyed busting out some old freestyle tricks and touring around the lagoon, exploring different spots. At the same time, Gianmaria Coccoluto was busy training to defend his freestyle world title.
In between, there were loads of kiters enjoying what the place offers. As a dedicated wave head, foiler and winger, I was a little dubious about how much I would enjoy the riding there. I was mainly going as I was keen for Susie to get some decent lessons after her below-par experience in Morocco.
I was surprised by how much I loved being back on a twin tip. That was largely due to the conditions; flat water kiting is always much better than hacking around in a bunch of chop. From speed runs in the flattest water you can imagine to riding upwind and out of the lagoon to explore further afield, I loved every session I had.
So much so I can't wait to go back next year. As for Susie, she progressed so quickly, the consistent wind and flat water making kiteboarding easy. She was ripping, and I was so proud of her. If you have a partner or loved one who's keen to learn, sell them on the culture and food of Sicily, and then let Alby's team transform them into a die-hard kiter in a matter of days.
It was genuinely one of the best kite trips I've been on. Great food, amazing conditions, ice cold beer, tasty wine and sunsets that left you feeling warm inside long after the heat of the sun had dissipated and memorable sessions that will stay with me for a long while yet…
Lo Stagnone, I came to you so Susie could learn to kite, but thanks to the incredible set-up and the amazing conditions, I left with an invigorated passion for twin tips and doing things in kiting that I had long forgotten.
Alby and the team were incredible every step of the way, and I'd highly recommend you put a spot in your diary for next year if you fancy a European kite holiday that is hard to beat!
Videos
Rou has been kiting since the sports inception and has been working as an editor and tester for magazines since 2004. He started IKSURFMAG with his brother in 2006 and has tested hundreds of different kites and travelled all over the world to kitesurf. He's a walking encyclopedia of all things kite and is just as passionate about the sport today as he was when he first started!
Comments