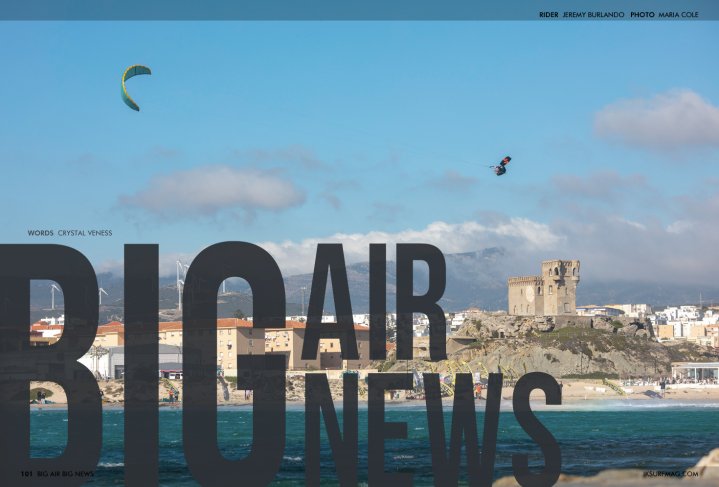 Big Air, Big News
Issue 101 / Thu 12th Oct, 2023
All eyes are on the big air scene, and this year, we've seen another leap forward in tricks and technicality. With the young guns leading the charge, the level of competition is unbelievable. Read on as Crystal Veness recaps the biggest news in the world of big air!
Big air stocks continue to rise, and they're showing no signs of stopping! The popularity of the big air discipline has every brand racing to produce the best gear, riders chasing wind around the world, and epic battles at all the big air hotspots. Here at IKSURFMAG, if it's an event day, you'll find us glued to the livestream - if we can't make it to the beach, that is! We've been spoiled for choice over the past few months with a BAKL event in Hood River, the long-awaited return of Red Bull Megaloop, and some surprises at Full Power Tarifa. Here's our top takeaways from these events!
Andrea Principi Enters the Big Air Hall of Fame
Is there a Big Air Hall of Fame, you ask? Not that we know of, but if there is one, Andrea Principi's win at the Red Bull Megaloop on the stormy beaches of Zandvoort punched his ticket in. While his impressive performance on the water made his win undeniable, his actions on the beach have firmly secured his status as an absolute f*&#ing legend! If you didn't watch the event or haven't seen the clips of his interviews going viral on social media, you are missing out. Andrea is a force to be reckoned with, and we think he's one to watch for at the Red Bull King of the Air! Brrrrrr!
Burlando Makes A Breakthrough
Jeremy Burlando has been on the edge of glory for a while, winning his first BAKL event in 2022 in Tatajuba and making his debut in the 2022 Red Bull King of the Air. Up against Andrea Principi in the Megaloop final, he missed the podium by a hair, finishing the event in 4th place. But, when the Levante hit Balneario, Tarifa this September, the stars aligned for the Spanish youngster, who went massive on his Slingshot prototype. He had some of the highest jumps of the day and looked in perfect control throughout his heats. Congrats on the win, Jeremy! We can't wait to see what's next…
The Future is... Foil?!
It was bound to happen eventually, but we won't lie; we were more than a little surprised to see Charles Brodel riding into the competition zone of Full Power Tarifa on his hydrofoil! We were even more surprised to see how extreme his hydrofoil big air tricks were! He put on an excellent show, nearly beating Arthur Guillebert for a spot in the semifinal. The pairing of foiling and big air is inevitable, and many big names in big air have been spotted training on foil (ram air) kites, using that extra hangtime to practise rotations. Who will be the first athlete to ride a foil kite in a major big air event? Our money is on Jamie Overbeek!
Wherefore Art Thou, Lorenzo?
After a surprise separation from the Cabrinha team earlier this year, we've been awaiting the comeback of Lorenzo Casati, our current King of the Air, defending his title this November. He chose not to compete in Red Bull Megaloop and Full Power Tarifa, so we'll have to wait a bit longer! In fact, a few big names skipped out on Full Power, including Liam Whaley and Andrea Principi. It's clear they have their targets set on achieving glory in Cape Town. Will Lorenzo return to the scene to defend his title? What will he ride during the upcoming Red Bull King of the Air?! All eyes are on the Italian shredder while we await his next move…
I Spy With My Little Eye…
There was a lot of new technology on display in these past few kite competitions! The eye-catching new Harlem Force, using Brainchild technology, was debuted by Scott Barendsen at Full Power, and boy, does that kite look stunning! Back at the BAKL event in Hood River, we spotted a very interesting Naish prototype in the hands of Ewan Jaspan, which we can't wait to hear more about. Over in Europe, Evan Klijn has been dropping some sneaky videos on an unreleased FLYSURFER big air kite. Jeremy Burlando rode his unbranded Slingshot prototype with that telltale golden leading edge all the way to the top of the podium. And, most of the North team was riding the yet-to-be-announced Orbit Pro. Considering there are a few hundred photos of it online, and some retailers already have it listed on their websites, it's safe to say that the cat is out of the bag. We'll be sure to fill you in on these new products once they're official, but you can read more about the Harlem Force later on in this issue!
Ladies In The Levante
While we have yet to see much from Red Bull on the topic of ladies in big air, Full Power Tarifa was the perfect opportunity for the ladies to show their stuff. Zara Hoogenraad has been riding with more power than ever, taking that top step on the podium. But, it was a hard-won fight against finalists Francesca Maini and Elsien Zijlstra, the latter of whom took 2nd place. Elsien's progress over the past year has been rapid, and we're excited to see her fighting for 1st. Will we see any attention on women's big air at the Red Bull King of the Air? Or will we have to wait for the season-ending Big Air Kite League event in Cape Town to see more strong performances from the ladies?!
Broken Records
South African Joshua Emanuel showed us that he's still got that something special by claiming the WOO World Record jump of 36.2 metres after chasing an August storm to Denmark. Teammate Maerten Haeger had posted a score of 35.7 earlier that day, but sharing the spot seemed to provide some added motivation for Josh to get out there and claim the record on the new CORE XR Pro. Another record broken this month was on a hydrofoil, with Borja Vellon jumping off flatwater on his FLYSURFER Sonic 4 and achieving a record-breaking 28.2m jump with 24.4 seconds hang time. What's next?!
Here Come the Kids!
Hardly a big air competition goes by these days where we see some names we don't recognise! With new riders sending it harder than ever, we're excited to see a continued shakeup in the world of professional big air. At Full Power, Julian Huynh showcased some insane height and technicality, achieving a dominant win in Div 2 and landing a spot in Div 1. On the changes in the big air scene, Julian says, "It has been crazy. Without even talking about doubles and triples, it's like now people are creating tricks every week. Everyone's doing their tricks differently with their own style, using different settings on kites, from big kites to small, short lines to long; it's crazy now. It's like anything is possible." We can't wait to see what's next for Julian and the rest of the up-and-coming riders breaking onto the big air scene!
How Low Can You Go?
Jett Bradshaw and Jason Van Der Spuy put it all on the line at Red Bull Megaloop by taking out short lines, allowing them to do alarmingly insane kite loops with their kites well below them, almost touching the water! Jett shared his thoughts after the event: "Red Bull Megaloop was definitely a "bucket-list" experience for me. I couldn't believe how fortunate I was to be selected for this iconic event. If there was any comp that would showcase a shortline mega performance, this was it. No fancy ballet moves; my kind of day at the office.
"I always feel slightly isolated riding short lines in a competitive environment. I don't have the luxury of bouncing options or ideas off other riders with similar setups. I feel sort of like the poor cousin arriving at a family lunch! My first heat was surreal; this is what I live for, the counterculture of big air. Showcasing short lines to the megaloop audience was unbelievable. There's definitely a beach appeal to a low shortline loop, and I'm getting goosebumps just thinking about it! I feel, without sounding arrogant, that we've started developing a short line following at these events, and it feels awesome."
Jason Van Der Spuy promises to bring his short lines out at KOTA if the wind is strong enough, and we are sure that the roaring crowd on Cape Town's Kite Beach will be going nuts if these two South African short line senders get another chance to put on a proper show!
North VS North
The battle between the North boys raged in Zandvoort, with Cohan van Dijk, Luca Ceruti, and Marc Jacobs duking it out at Megaloop. While Luca edged out a win over Marc Jacobs in Round 2, a crash resulting in a concussion meant he had to step aside, and Cohan Van Dijk went on to take the 3rd place spot. In Tarifa, it was Cohan vs Luca once again, and this time around, Luca came out on top, knocking Cohan out in the semifinal and ending up in 2nd place overall. We checked in with both riders to find out if they are friends or foes!
Cohan weighs in after the events, "It's something I've trained very hard for, so it was very, very rewarding to be in Megaloop for the first time and getting third... It's crazy. With Luca, I don't think we're rivals. I think we're friends. We train together, we're a team, and it's cool to compete together. Obviously, against North riders, you don't want to win or lose, but you've gotta be cold-blooded and just go for it. It's an individual sport. We're all doing it for ourselves, and we all want to win. Teammate or not, you gotta go for the kill. But outside of that, we're friends, having the best time, training hard, and working hard together to create the best kites and conditions for ourselves to win. You never know who you're going to meet in those competitions. So you need to have a nice heat ladder, be seeded well and ride well, and if it's not your day, it's not your day. It's a competition. You never know what's going to happen!
Luca gives us his take, "Going into the heat against Cohan, it definitely felt like there was a lot of good energy. Before the heat, we just had a chat and agreed that no matter what happens, we're just going to go into the heat, have fun, and whoever wins, we'll support each other to the max and fly that North flag as high as possible. It was really cool at the start of that semifinal; we were both cheering each other on, and it was not like any other heat I'd ever rode. It was purely fun, like a normal session, which helped me a lot in my confidence on the water to pull off new tricks. It was just such an awesome heat. And yeah, I'm definitely stoked to pull it out of the bag and take the win against Cohan in Tarifa. I'm very keen to battle it out against Cohan again in the French KOTA qualifiers and in KOTA. I think it's going to be the same - whoever does it on the day will win. I can't wait for those events. Fingers crossed!
Big Air Isn't Going Anywhere
The evolution of big air continues, and Ruben Lenten summed it up perfectly after Megaloop, saying, "Megaloop was a great event for sure. The conditions and the new tricks definitely remain a great challenge for the riders and an epic show for the spectators. One for the books! The format of this event really allows the riders to focus on nailing the sickest megaloop, and wow, where does it end? From the most gnarly short line megaloops, double, triple loops to s-loops, all in combination with boardoffs and multiple rotations. Hats off to the new generation!!!"
This year has been a wild ride in the professional big air scene, and the carnival continues! As we count down the days to this year's Red Bull King of the Air, we expect it to be the most competitive, extreme event we've seen this year. There are a lot of young riders with a lot to prove and some legends that aren't ready to go down without a fight. Whatever happens, we're here for it! Stay tuned...
Videos
Editor at IKSURFMAG, Crystal Veness hails from Canada but is based in South Africa. When she isn't busy kitesurfing or reporting on the latest industry news for the mag, she is kicking back somewhere at a windy kite beach or working on creative media projects.
Comments