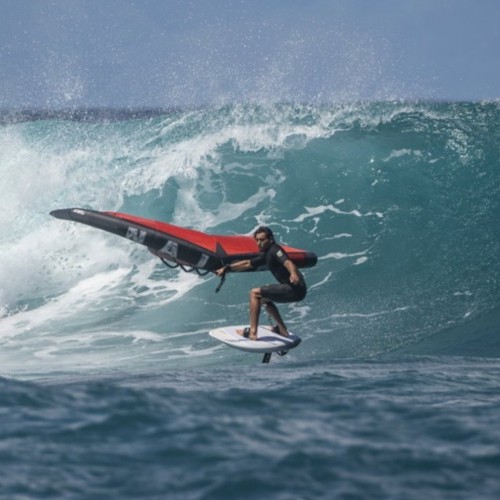 Naish | Introducing the New Matador LT and Mach 1 Foils
Fri 4th Nov, 2022 @ 12:00 am
Naish just released the New Matador LT and Mach 1 Foils, and we've got all the details right here for you!
Matador LT – Light with Might
Win a Set of Quobba Fins this issue in our FREE subscriber prize draw.
The Matador LT enters its second generation with several technical details and shaping upgrades. The LT remains compact, lightweight and powerful. It is still targeted towards wing-foilers that want to use as small a wing as possible for the prevailing wind conditions, focusing on riding swells and waves. It maintains the same outline and dihedral as the original, with its slightly pointed leading edge at the centre and pronounced dihedral across the wingspan. But the new LT has more pre-load in its windowless canopy than its predecessor, creating even better "sheet-in-and-go" power with a more balanced and linear power delivery, less front-hand pressure, and improved top-end stability. This creates a wing that drives upwind well, even with heavy riders, then flags in neutral with amazing stability and balance for riding waves, swells, and downwinders.
The firm, rounded and ergonomic handles provide just the right amount of rigidity while still being soft to the touch. New rubber inlay grip stripes make the handles even more comfortable and require less rider effort to hang on to, making them easy on the hands.
Overall the new Matador LT is a lightweight, easy-handling, powerful wing with great flagging characteristics that provides exceptional riding for all skill levels.
Features
Enhanced Low-End Power
Even More Balance Between Front and Back Hand Pressure
More Pre-Load for even better "sheet-in-and-go" power
More Balanced and Linear Power Delivery
Pronounced Dihedral for Great Flagging
3 Firm Rounded Ergonomic Strap Handles
Rubber Inlay Grip-Stripes on Handles (Added Comfort)
Added Strut Dump Valve
Windowless (Warning: limited visibility)
Leading Edge Anti-Abrasion Patches
Wrist Leash Included
Bladder Lock
SureLock Valve
One Point Inflation System with 8 mm Hose
HT Plus Seam
Sizes: 3.0 | 4.0 | 5.0 | 6.0
Click here to find out more about Naish's Matador LT.
MACH 1 – The Future of Going Fast
Win a Set of Quobba Fins this issue in our FREE subscriber prize draw.
The new Mach 1 foil range brings a new level of speed and control to wing foiling while doubling down as kite and surf foils. Born from the blistering speed of the Wind/Wing HA 914, the Mach 1 series are designed with thin, very stable and slippery foil sections. While focusing on the top speed, they offer a surprisingly wide range, good glide and low stall speed. Especially for advanced wing-foilers, the Mach 1 will be a front-wing option that will likely provide all you need regardless of what kind of riding you are doing, whether at water blasting, racing, jumping or carving in the surf.
Click here to find out more about Naish's Mach 1 Foils.
Featured in this Post
214,015
United States
98,602
Comments