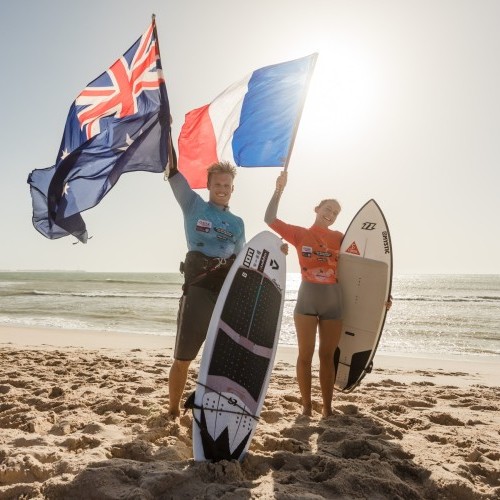 GKA Kite-Surf World Cup Dakhla, Morocco – Event Summary
Tue 4th Oct, 2022 @ 9:00 pm
Win a Custom Designed Ozone Twin Tip this issue in our FREE subscriber prize draw.
Check out Liam Dredge's summary of the GKA Kite-Surf World Cup Dakhla, Morocco event!
Dakhla 2022 was certainly one for the history books! A promising forecast had riders and crew amped for what looked to be a thrilling event. The waves were firing, the wind was pumping, and judges made use of these epic conditions starting the competition on day one. This pearling right-hander had everyone chomping at the bit, and the conditions mother nature threw our way were some of the best competition conditions we could have ever asked for. The stars aligned, and after three consecutive days, the Aussie James Carew (AUS) and rising superstar Capucine Delannoy (FRA) were crowned our king and queen of the desert!
AUSSIE AUSSIE AUSSIE. OI OI OI
James Carew (AUS) managed to grab his first win here at Westpoint Dakhla. A place he's struggled with in previous years saw the young Aussie come to Morocco with a tunnel-visioned mindset for 2022. A dominant win was the goal; as he mentioned himself, dreams do come true and with hard work, dedication, and plenty of training, it was Mr Carew who was lifting the trophy!
Kite-Surf World Cup Dakhla Men's Results:
1st James Carew (AUS)
2nd Sebastian Ribeiro (BRA)
3rd Matchu Lopes (ESP)
4th Mohammed Ali Beqquali (MOR)
DELANNOY STRIKES FIRST AGAIN!
Capucine Delannoy (FRA) took yet another win at the first Kite-Surf tour stop of the year. The young and hungry North rider powered through the event knocking down everything in her path. Capucine demonstrated elegant wave riding with a sense of power when ripping through every turn. The 16-year-old used her competition experience to choose the right equipment and pick the best waves that came through in each set. She now leads the 2022 rankings heading into Brazil next month.
Kite-Surf World Cup Dakhla Women's Results:
1st Capucine Delannoy (FRA)
2nd Frances Kelly (CAN)
3rd Johanna Catherina-Edin (SWE)
4th Zoe Bazile (FRA)
To follow the GKA action, please click here.
Words: Liam Dredge
Photos: Svetlana Romantsova
Location: Westpoint Hotel, Dakhla
Featured in this Post
Comments