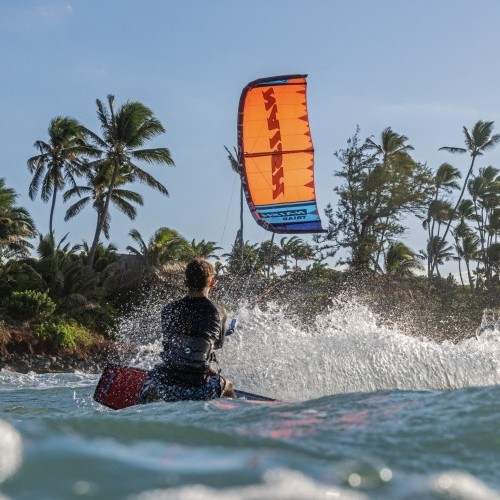 Naish Kiteboarding – Find Your Match!
Wed 22nd Apr, 2020 @ 9:00 pm
We are stoked to introduce you to our NEW S25 Naish kites! Built with our industry-leading construction, Naish Kiteboarding continues to fly forward and progress the sport the same way we have for the past 21 years: making every day on the water a good one, no matter what the conditions. Whether you want the ultimate foiling and light wind weapon, high-performance freestyle, or just an all-around cruiser, the new Naish lineup has a kite for every condition. Find your match with the latest Naish Dash, Dash LE, Triad, and Boxer.
Win a Lieuwe Shotgun Paradise Series Board this issue in our FREE subscriber prize draw.
The Dash + Dash LE
Designed for riders who like a fast + engaging kite, the Dash is the rider's choice for all of the above. Available in a limited edition version – the Dash LE- an all-black canopy and Naish's iconic skull logo.
Flies and turns fast thanks to the C-shape, small leading-edge, and relatively flat profile & size of the wingtip. This also makes the Dash great for kite loops (finishes the turn well) and jumps high by creating an immediate and strong pull at the start delivering a powerful and "punchy" feel.
Compared to the Pivot, the Dash is more engaging, more "punchy" and turns faster. It also creates more drive when unhooked. Its power and forward flying ability deliver similar performance to the Torch—creating good pop and slack for kiters that like to ride unhooked.
Advanced kiters looking for a fast and powerful kite will be stoked on the Dash. Simply put, this kite flies fast, turns fast and has a powerful and "punchy" feel. The C-shape, small leading edge and relatively flat profile create strong pull immediately, which is a huge benefit for riders looking to jump high. The Dash not only turns fast, but it also completes them nicely too. Anyone looking to pull off a killer kite loop will benefit from its superior turning performance. This newest model features a new bridle geometry creating a much better low end for more consistent power in gusty conditions. Those looking to ride unhooked will find its forward flying ability and power to perform similar to a Torch, as it offers excellent pop and slack.
Win a Lieuwe Shotgun Paradise Series Board this issue in our FREE subscriber prize draw.
For more information on the Dash + Dash LE, please click here.
The Triad
Intuitive, stable and easy to fly. The Triad is a true all-arounder.
Easy to control, the Triad is great for kiters looking for a smooth-flying, easy-to-handle kite or anyone that wants to improve their skills.
The new Triad is much more than an evolution of the Ride; it's been redesigned and re-engineered. We've taken the original iconic user-friendly design and developed it further to be even more versatile and provide a whole new riding experience. This unique, three-strut frame offers greater stability. The centre luff strut creates excellent low-end power, allowing the kite to drift and providing great sheet-in-and-go. The stiffer centre also increases the Triad's wind range, providing improved handling in stronger winds and gusty conditions. It also allows us to move the two outer struts lower for a more direct bar feel and improved turning ability. Its low aspect ratio and gradual curve in the wingtip produce smooth turns and very predictable flying. This is perfect for anyone who prefers steady movements over a more punchy kite. Mistakes are minimal with the Triad, so no need to worry if you oversheet it, dive it too hard, or overfly your kite. It also has excellent wing stability when resting on the water—so you have plenty of time to make adjustments before relaunching. Smooth-flying, stable and forgiving, the Triad gives riders plenty of time to react and plenty of room to grow, so you're in complete control at all times. From absolute beginners to kiters looking to improve, to those seeking an easy-riding experience, anyone looking for an easy to control a kite will enjoy the Triad.
Win a Lieuwe Shotgun Paradise Series Board this issue in our FREE subscriber prize draw.
For more information on the Triad, please click here.
The Boxer
Originally designed for foiling, the Boxer has a wide range of power, quick turns and great downwind drift. These characteristics also make the Boxer amazing for light wind freeriding and down-the-line wave riding. The Boxer also has the widest range in sizes available of any Naish kite, ranging from the all new 2.8 m² all the way up to 16 m².
Win a Lieuwe Shotgun Paradise Series Board this issue in our FREE subscriber prize draw.
For more information on the Boxer, please click here.
Featured in this Post
214,015
United States
98,602
Comments