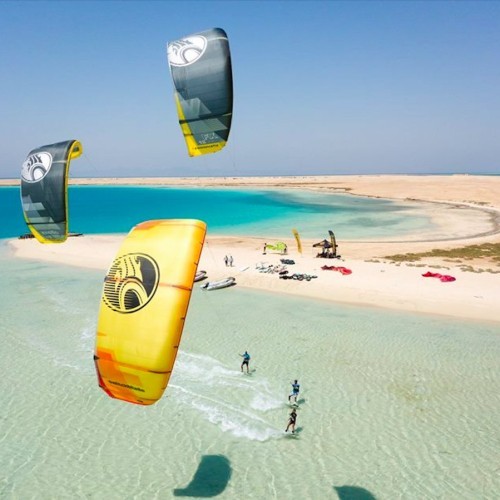 Happy Holidays | Cabrinha News
Thu 20th Dec, 2018 @ 9:00 am
The Cabrinha Ohana (family) would like to wish all of you the very best this holiday season. We'd like to thank you for letting us provide you with all of your kite and surfing needs. It's always a pleasure to see your relentless stoke and appreciation of this sport and we're right there with you. Wherever you're due to spend the holidays, we hope you enjoy some time doing what you love and #justgokite!
With exciting new things to come in 2019, the entire Cabrinha team wishes you a great new year and look forward to seeing you on the water!
Win a Custom Designed Ozone Twin Tip this issue in our FREE subscriber prize draw.
'Surfing Hawaii' Exhibit With Pete Cabrinha
From December 16th until February 15th, Pete Cabrinha shows his new collection of art at the 'Surfing Hawaii' exhibition on Maui. For the past two decades, Pete has pursued the visual arts with vigour and curiosity. His mixed media art captures the essence of a life lived above and below the Hawaiian waters.
Surfing Hawaii – Schaefer International Gallery, Maui Arts & Cultural Center from Dec. 16th – Feb. 15th.
Read the full interview, right here!
Keahi de Aboitiz Takes The Win In Torquay
Congratulations to Keahi de Aboitiz for winning the first-ever GKA event at his home spot in Torquay, Australia.
The competition couldn't have gone better for Keahi who took the win on his birthday!
Keahi's win secured his second place in the overall ranking of this year's GKA Kite-Surf World Tour. Congrats, Keahi! To find out more about what went down in Torquay, please click here.
PEI – A Kiteboarding Discovery Film
Win a Custom Designed Ozone Twin Tip this issue in our FREE subscriber prize draw.
When most people think about dreamy kitesurfing destinations, Canada is usually not the first thing that comes to mind. Shot on the stunning Prince Edward Island, the latest Cabrinha Film features Tom Bridge, Lucas Arsenault and Theo Demanez as they join forces to discover one of Canada's secret kiteboarding paradises.
In the interview on the Cabrinha blog, Tom, Lucas and Theo take us behind the scenes for a glimpse of their special trip. Check it out, right here!
Tech Tip Of The Month
Win a Custom Designed Ozone Twin Tip this issue in our FREE subscriber prize draw.
Hi: Rise Foil Assembly
In this video, Cabrinha Test Manager Phil Sobolev walks you through the assembly of the new 2019 X: breed foil board.
The Cabrinha Quest Commences Their Journey
We're excited to announce that the Cabrinha Quest sets sail for its third voyage in 2019. Over the next 6 years, the upgraded and sustainable sailing catamaran will explore the most remote and dynamic kitesurfing locations on the planet.
A seafaring expedition to seek out the world's most remote and dynamic kitesurfing and surfing locations. A quest to experience native cultures in their natural state. To consciously explore the Oceans of the world with passion, integrity, and sensitivity to the cultures and ecosystems we inhabit. To build awareness, global concern, and inspire solutions to the environmental crisis. The Cabrinha Quest is a six-year expedition that begins March 2019.
We are watermen and women who are passionate about exploring some of the few remaining untouched areas of the world – and we're doing it in style. Style to us means doing the things we love while operating as sustainably and as mindfully as we can of our natural environment. We aim to operate Discovery, our catamaran at near carbon neutral and aspire to heighten awareness of environmental and social problems the Earth faces in places few people get a chance to see.
Membership Applications are now being accepted!
Want to learn more? Click here.
This Months Cover Of IKSURFMAG!
Stay connected, click here.
Featured in this Post
Comments