Lewis Crathern launches The Big Charity Downwinder!
Everyone loves a downwinder! And this year pier jumper and Best Teamrider Lewis Crathern has teamed up with youth charity Snow-Camp to launch a unique kitesurfing and fundraising event. The Big Charity Downwinder will hit the south coast of England in September 2013, and aims to bring together a minimum of 250 kitesurfers to complete a 45 mile downwinder, raise funds for charity and set a new kitesurfing world record!
'I've never been involved in anything like this before' said Lewis. 'It's going to be a huge challenge but if we can make it happen it will be an amazing achievement. I think this is an event kitesurfers will want to come together to support and get involved with – plus the chance to be part of a world record attempt adds to the appeal!'
Snow-Camp Director Dan Charlish and Chris Bull of CBK Kiteboarding tested the planned route between Hayling Island and Lancing last month to ensure it was achievable. The pair set off from Hayling at 7am on the 12th April in solid 20 knot SW winds, and completed the 45 mile journey to Lancing in 3 hours 16 minutes, averaging 23km/h.
'It was an amazing morning' said Dan afterwards, 'the route is just the right distance – it's a tough challenge but still great fun. The last 5 miles were pretty tiring and the legs were struggling a bit by then – but that only added to the sense of achievement landing at Lancing. It will be unbelievable if we can do this again in September with 250 kiters!'
The event will be raising money for Snow-Camp, a snowsports focused youth charity supporting disadvantaged young people (http://www.snow-camp.org.uk) and RNLI, a charity close to many kitesurfers hearts. (http://www.rnli.org)
Participants need to be intermediate kitesurfers or above – but don't need to complete the full 45 miles if this feels too far. 'We would like as many people involved as possible to give us the best chance of setting a new World Record – which is only assessed over the first mile' said Lewis. 'You can even just come and just do the mile if you want! After that there will be landing points along the route at various distances, so you can set your own target.'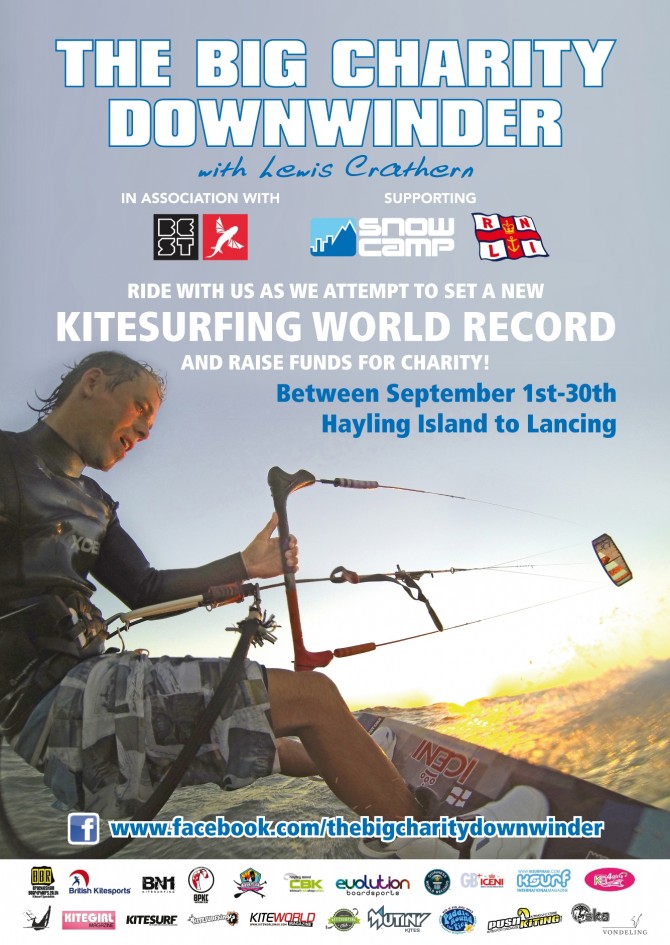 The kiting community has got fully behind the event with sponsors stepping up to lend their support from across the industry. The BKSA are also involved and advising on safety, boat support and tracking of participants – which organisers say is the number one priority.
But above all the event looks like being great fun and something that brings the kitesurfing community together for a great cause.
'It's great to be doing this for 2 charities whose work I really support,' said Lewis, 'and to close the event with a huge party, with masses of kitesurfing prizes to give away and coaches to get everyone home safely should make this a day to remember!'
To find out more and sign up go to http://www.snow-camp.org.uk/events/big-charity-kitesurfing-downwinder or see http://www.facebook.com/thebigcharitydownwinder

Featured in this Post

14,512

55,300
Comments