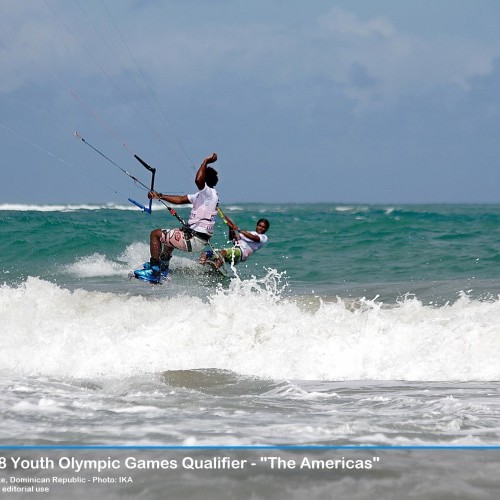 North And South American Youth Olympic Games Qualifiers
Fri 19th Jan, 2018 @ 12:00 am
The Youth Olympic Games Qualifier Series is kicking off this week in Cabarete, Dominican Republic. Young racers are competing for a spot in the Youth Olympic Games, which will take place in Argentina later this year. Find out who came out of the gates on top, by reading the news below, provided by the International Kiteboarding Association.
Today marked the first official day of competition for our Junior Olympic hopefuls. On a picture-perfect day on Cabarete beach, 20 heats were completed over the course of 3 hours, showing just how fast-paced this sport is. It was a very exciting day filled with super close finishes.
Representing North America and the Caribbean, the top finishers for today in the boys qualifying were: Tiger Tyson of Antigua, Cameron Maramenides of the U.S.A, Adeuri Corniel of the Dominican Republic took 1st, 2nd, and 3rd respectively.
For the girl's division, Lou Marin of the Dominican Republic consistently took first in all of her heats. Paula Herma, also of the Dominican Republic, finished in 2nd place followed by Faviola Collazo-Velez of Columbia.
In the South/Central America division Geronimo Lutteral of Argentina held on to the lead confidently, taking first in all his heats. Close behind was Anthar Racca of Mexico followed by Manuel Soares Dos Santos Neto of Brazil.
For the girl's division, Ona Romani and Adela Mendoza, both of Argentina, finished 1st and 2nd followed by Maria Valentina Alvarez Villarroel of Venezuela who took a close third.
The highlight of the day was certainly when Lorenzo Calcano of the Dominican Republic won his heat on a kite several sizes smaller than any other, and he closed it by borrowing a board to finish!
Extremely close heats in all divisions kept everyone intently watching and eager for more. Be prepared for a potential shakeup in the leaderboards as many competitors are consistently improving their times and climbing the ranks. Riders will be back at it again tomorrow 12 PM Atlantic time, weather permitting.
OVERALL STANDINGS AFTER 3 ELIMINATIONS
North America / Caribbean BOYS
1. Tiger Tyson (ANT)
2. Cameron Maramenides (USA)
3. Adeuri Corniel (DOM)
North America / Caribbean GIRLS
1. Lou Marin (DOM)
2. Paula Herrmann (DOM)
3. Faviola Collazo-Velez (PUR)
South / Central America BOYS
1. Geronimo Lutteral (ARG)
2. Anthar Racca (MEX)
3. Manoel Soares Dos Santos Neto (BRA)
South / Central America GIRLS
1. Ona Romani (ARG)
2. Adela Mendoza (ARG)
3. Maria Valentina Alvarez Villarroel (VEN)
YOG Qualification Events
North and South America: Cabarette, DOM, 15-20 January 2018
Europe and Africa: Dakhla, MAR, 20-25 February 2018
Asia and Oceania: Pranburi, THA, 13-18 March 2018
2018 TT:R Youth Slalom World Championships: Boao, CHN, 03-08 MAy 2018 (TBC)
Full rankings and live elimination ladders with scoring: twintipracing.com
Featured in this Post
Comments