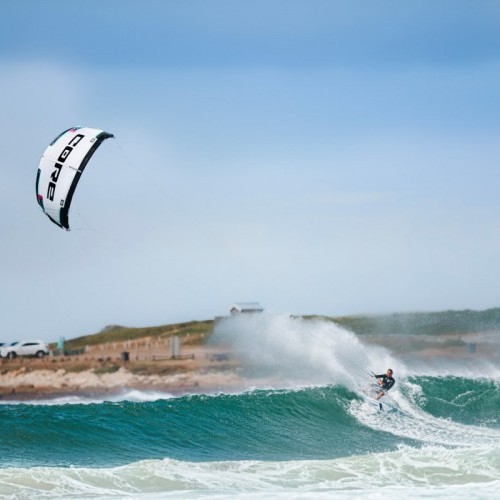 CORE Section 4
Fri 20th Aug, 2021 @ 9:00 am
PURE. WAVE. PASSION. CORE just released its fourth-gen pure wave kite, and it's ON FIRE! Now with CoreTex 2.0, ExoTex Light struts and refined shape, CORE's specialised wave kite aims to take over the surf scene. A great surf kite gets you to the best waves and keeps you on them without a fuss. It needs excellent drift and quick loops to stay afloat in onshore wind conditions, especially big, fast waves. Offshore conditions require a fast kite with huge depower to stay in front of the window. Section 4 ticks all the boxes with their improved wind range and steering.
What's New?
CORETEX 2.0® CANOPY
The marginally lighter canopy fabric features massively improved tear resistance, stiffness, and durability. A new coating process aids stability in higher winds – a big plus- for three strut wave kites. CoreTex 2.0 sets the standard in breaking strength, tear resistance, longevity, UV protection, and elongation.
EXOTEX® LIGHT STRUTS
They replaced our ExoTex strut material with ExoTex Light, a super tough yet lighter version of their industry-leading airframe material. It's been real-world tested for 2 years now, so they're confident in its durability. The struts also received minor improvements to the elbow to improve stability.
REFINED! FUTURE-C SHAPE
The latest generation Section carries over the proven, 3-strut, Future-C canopy shape from its predecessor with a few refinements. The tip geometry between the bridle point and control line was refined to improve feedback and aerodynamics. The improved Future-C shape, streamlined tips, and CoreTex 2.0 canopy further improve flight efficiency (better side-off performance).
For more information on CORE's Section 4, please click here.
Protect your valuable kite gear during travel with our hard-wearing, thickly padded gear bag. It's big enough for several kites, twin tips or surfboards, and everything you need for action-packed sessions. Large, smooth-running wheels easily roll a fully loaded bag to your destination. Durable 1000 denier nylon, extra strong zippers, and other neat features will make travelling easy peasy.
Featured in this Post
4,047
62,313
Comments