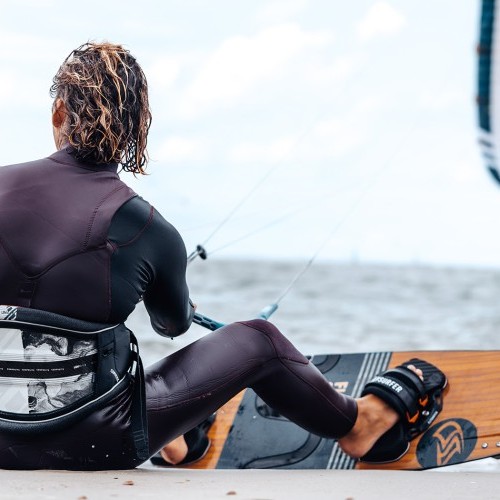 Flysurfer – Trip
Fri 27th Nov, 2020 @ 10:05 am
Check out Flysurfers latest boards – the TRIP! The TRIP makes travel comfortable and affordable again! The innovative PU split construction reduces the pack size, enables performance features, and increases protection of the board halves against wear. The shape is our vision of a true all-rounder and has a constant rocker curve, stepped tip channels, a single concave and the proven asymmetrical outline to minimise spray while riding.
The TRIP feels comfortable in all conditions: good planing, medium flex, moderate pop, playful turns, and very good upwind performance make it an excellent crossover board. The grip and smoothness can additionally be influenced by the "choose and ride" Fire fins. With the click-in system, you can quickly adjust your fins right at the spot or pull them off for storage. The TRIP comes with our comfortable "Squad pads and straps" with great adjustability, as well as a suitable travel bag. The complete TRIP package is designed and manufactured in Europe. The perfect travel companion for your next TRIP!
Ready to Ride Package:
1x TRIP Kiteboard
1x SQUAD Pad-Strap-Set (incl. Screws)
1x FIREFIN Set (incl. 50mm Fins, Screws, Mount)
1x SQUAD Grab Handle (incl. Screws)
1x SQUAD Accessory Bag
1x TRIP Travel Bag
1x TRIP Manual
Board Only Package:
1x TRIP Kiteboard
1x FIREFIN Set (incl. 50mm Fins, Screws, Mount)
1x TRIP Manual
For more information on Flysurfer's Trip, please click here.
Ines & Maxi TRIP-Talk
Read the full interview, right here.
Fri 27th Nov, 2020 @ 10:05 am
Featured in this Post

1,467

Germany
19,531
Comments